We paid a quick visit to Sumner Ponds this weekend to see Beautiful World Tents all set up and looking, well, beautiful.
The wow factor of a tipi in all it's glory never fails to impress me. This was a three giant hat plus one kungsornen configuration. Two of the giant hats were given to seating approx. 112 guests on a mix of round tables and chiavari chairs and banquet style rustic wooden trestles with benches and faux animal skins. The kungsornen held the dancefloor, DJ/Band stage area and low level chill out seating for about 15. The curved head table was also set on the dancefloor, a common thing to do to make the most of your space (It's easily packed away after your meal and before you kick off the evening with your first dance) In the third giant hat was the bar area, with the open fire as the centerpiece, more chill out seating and a couple of sofas for a special touch of luxury.
Mixing round tables and chairs with banquet style and benches can be a good compromise. Benches and trestles are be a better use of space, since you can seat 8 to a table with benches and this style of tables lay out takes up less space, but chairs are more comfortable for older guests.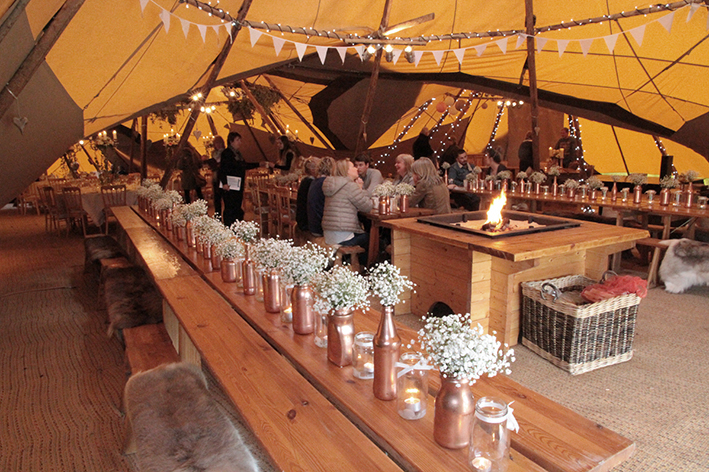 The tipis were set up with different styled finishing touches. The massive and very impressive chandelier, along with benches, banquet style and animal skins and made me think mediaeval banquet. But then rustic hearts, bunting, copper bottles and jam jars gave a very different feel. It just goes to show what a great blank canvas tipis can be.
Continuing the theme, outside was a little hat with benches around and you could easily put a fire pit in the middle to add some warmth.
It was a bit brisk on Saturday, but it certainly wasn't cold in the tipis. We entered through a solid wood door, and with the heaters and 2 open fires it was toasty warm throughout. So if you do have a Spring or Autumn month in mind for your wedding, don't let this put you off the idea of an outdoor wedding.
If Spring is your thing, click here to take a look at our new venue – Staffhurst Wood - a Surrey Wildlife Trust reserve, available exclusively through Fiesta Fields. The perfect mix of scenic woodland and a beautiful and secluded field space, surrounded by this ancient wood. Lovely at any time of the year but particularly stunning in April/May when the bluebells put on their show. On the eastern border of Surrey and with its proximity to the M25 and M23 it is easily accessible from Surrey, London, Kent, East and West Sussex.